Creating a modern bathroom doesn't have to be expensive or difficult. Here are a few tips to help you get started:
1. Start with a clean slate. If your bathroom is outdated or cluttered, start by clearing out all of the old furniture and accessories. This will give you a blank canvas on which to work.
2. Choose a color scheme. A modern bathroom should be sleek and stylish, so avoid bright colors and instead opt for neutrals like black, white, and grey.
3. Add some personality. Don't be afraid to add a touch of personality to your bathroom with accessories like towels, rugs, and artwork.
4. Use high-quality materials. To create a truly modern look, use high-quality materials for your bathroom's major fixtures. For example, choose a sleek glass vessel sink rather than a traditional ceramic one.
5. Think about the lighting. A modern bathroom should be well lit, so consider adding a window and using a bright vanity light or chandelier to illuminate the room.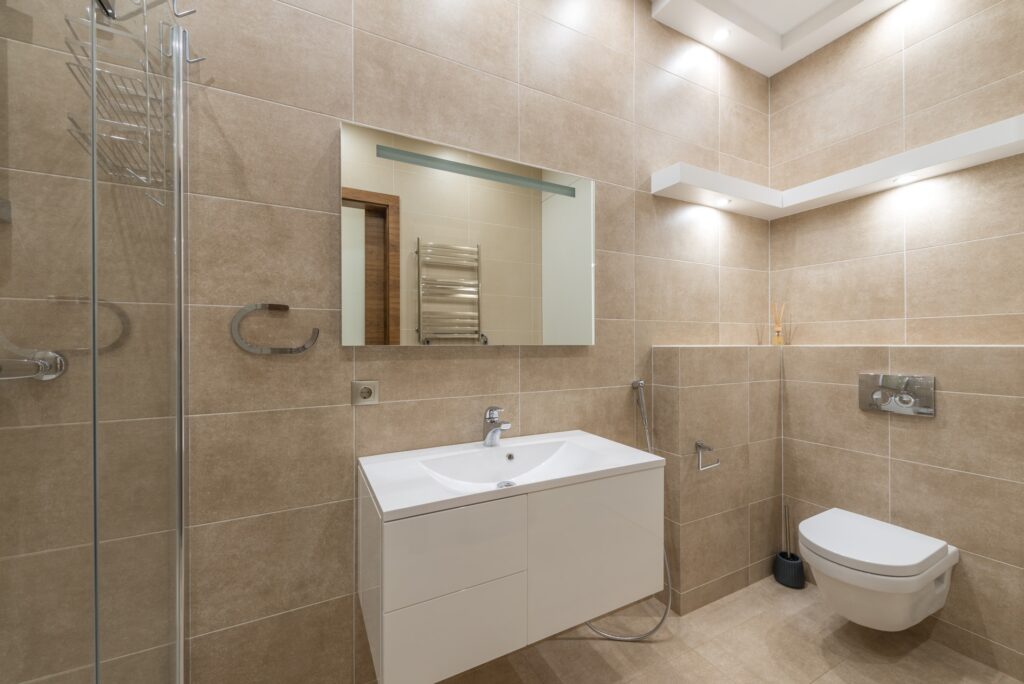 As Bathroom Remodeling & Design notes, "Lighting is key – even down to how you'll strategically place ambient lighting to create depth and drama."
6. Consider installing accent tiles around the room to add contrast and dimensionality.
7. Keep storage functional but simple. The cabinets under your sink can clutter easily if they have too many drawers or shelves, so limit yourself to two or three drawers with a shelf below the sink.
8. Consider making your space multi-functional by adding a countertop that can double as a breakfast bar or desk. This will free up valuable floor space in your bathroom and give you extra storage for linens, toiletries, and other items.
9. Keep function in mind when choosing faucets. According to Id3 Interior Designers , "A successful bath will have matching finishes throughout." If you want to integrate accent pieces like an expensive vessel faucet into your design, make sure it complements the overall feel of the room rather than distracting from it.
10. Think big when planning your shower area. A large shower with multiple heads will add space and elegance while a small shower stall or bathtub will make your bathroom feel cramped and cluttered.
11. Choose durable tiles that resist dirt and mold. Shower tiles in lighter colors like white and grey tend to show more dirt than darker colors like black, so if you're going for a sleek modern look in your shower, opt for dark floor and accent tiles along with white walls. Id3 Interior Designers in Pathanamthitta also recommends selecting durable tile materials such as stone or porcelain rather than marble or slate since they won't chip when dropped.
12. Add built-in storage solutions like overhead cabinets to keep towels, cleansers, and other items organized and out of view when not in use. If this isn't possible, it's worthwhile to invest in an attractive basket or container to store towels in rather than leaving them piled on the floor.
13. Simplify your storage solutions with wall-mounted shelves, hooks, and luggage racks wherever possible even if it means sacrificing spaace for other items like sinks or toilets. This will keep your bathroom feeling open and airy while using valuable floor space efficiently.
14. If you're fortunate enough to have a large shower area, consider adding an extra shower head outside of the main enclosure so that you can take advantage of dual-head showers without overcrowding the stall.
15. Maximize natural light by installing a window with a low sill that lets in plenty of sunshine without creating too much heat or humidity.